Chambers County Leaders Host CCS Alliance for Discussion About Carbon Capture and Storage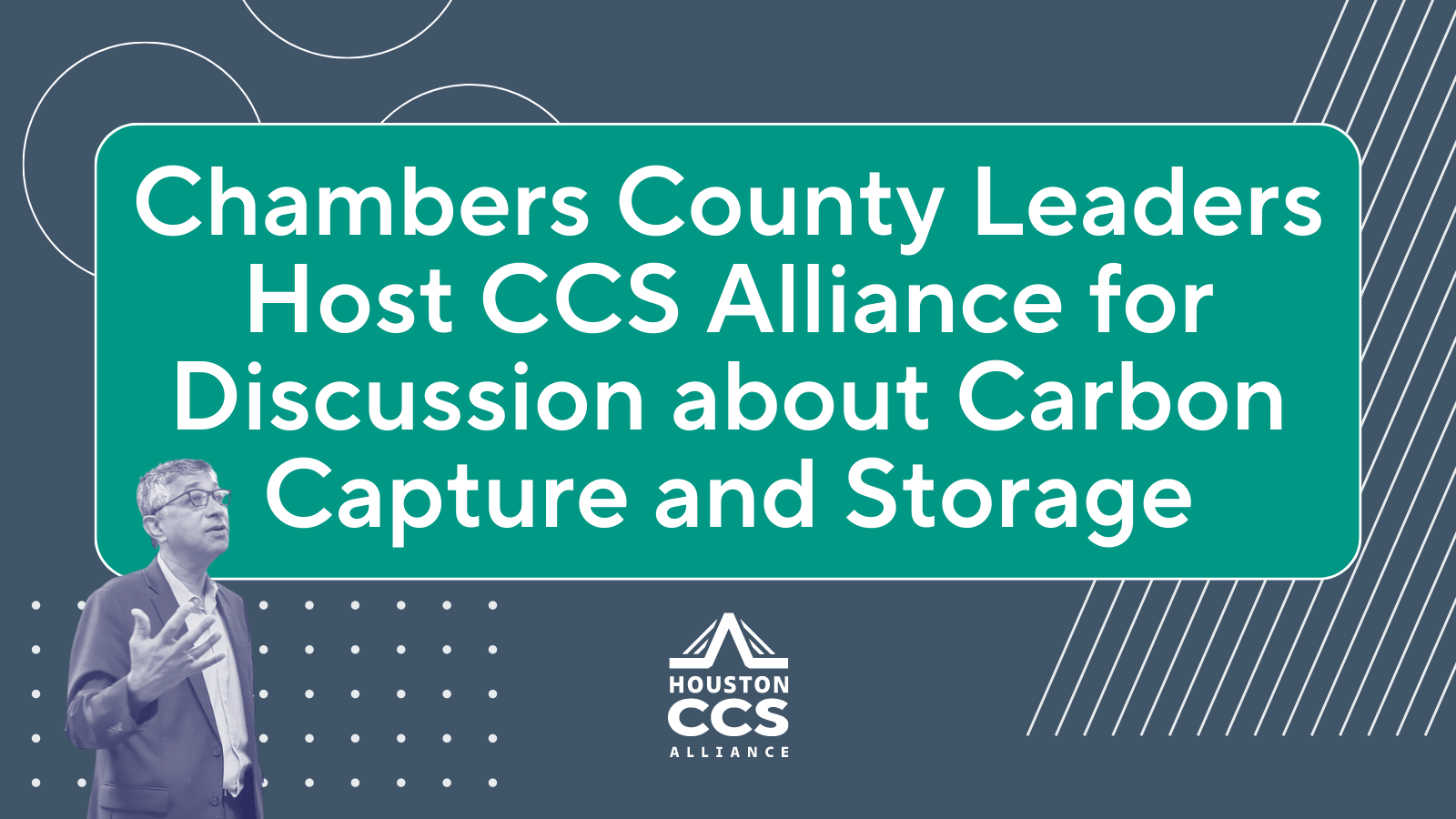 For Houston and Southeast Texas to be a world leader in carbon capture and storage (CCS), community education is a vital first step.
As part of our ongoing outreach, the Houston CCS Alliance visited Chambers County, bringing together member company representatives from Chevron and Calpine in addition to University of Houston's Chief Energy Officer Dr. Ramanan Krishnamoorti, with local elected leaders, landowners and ranchers for a roundtable discussion on carbon capture and storage initiatives in the area. The event was hosted by Chambers County Judge Jimmy Sylvia, who has led Chambers County since 1997.
Through this event, community members heard directly from industry leaders about innovative projects, like Chevron's Bayou Bend CCS development and Calpine's Baytown Carbon Capture Project, which represent significant local investments in Chambers County. The discussion underscored that these critical investments can help create a cleaner environment by reducing carbon dioxide (CO2) emissions, supporting good-paying jobs in existing industries, stimulating investments in local businesses, and providing valuable tax revenue that can drive economic growth in the community.
Dr. Krishnamoorthi, an expert in carbon capture, gave an in-depth introduction to the technology, educating county officials and landowners alike on the science behind the CCS process, its efficacy and proven safety, and its potential long-term environmental and economic benefits. "Carbon capture and carbon storage was first demonstrated more than 50 years ago and can reliably reduce carbon dioxide emissions while allowing industries to continue producing affordable and reliable fuels, electricity and everyday products we depend on," said Dr. Krishnamoorti. "The greater Houston area has all the attributes to be a global leader in advancing this critical technology."
Representatives from the Alliance member companies Chevron and Calpine followed, emphasizing the importance of working together with landowners and local officials throughout the development of their CCS projects. Brett Kerr, Vice President of External Affairs at Calpine, spoke to this point, explaining that, "Meetings like this allow us to collect quality feedback directly from our community neighbors while providing important information on the investments in carbon capture currently underway at our Baytown Energy Center and other facilities. Collaboration with our local communities on carbon capture is an essential step in Calpine's efforts to provide clean, reliable, low-cost energy to customers across Texas."
In addition to presentations, these events are important in facilitating one-to-one dialogues between community members and Houston CCS Alliance members, allowing landowners and local officials to ask questions about the CCS process and its impacts and cultivate personal relationships with representatives from the Alliance's member companies. The Houston CCS Alliance's engagement with communities paves the way for future conversations and relationship-building surrounding CCS.
"Here in Chambers County  and Southeast Texas, the energy, petrochemical, and power generation industries play a vital role in our economy," said Chambers County Judge Jimmy Sylvia. "It's comforting to know that we have organizations like the Houston CCS Alliance that are committed to holding collaborative conversations to educate our community leaders and members on the economic and environmental benefits that carbon capture and storage technologies can bring to our region."
Our thanks to Judge Sylvia, Commissioner Gore and other leaders from across the county who welcomed us to Anahuac.