Exploring Energy Innovation: Department of Energy's Advanced Research Projects Agency Visits Houston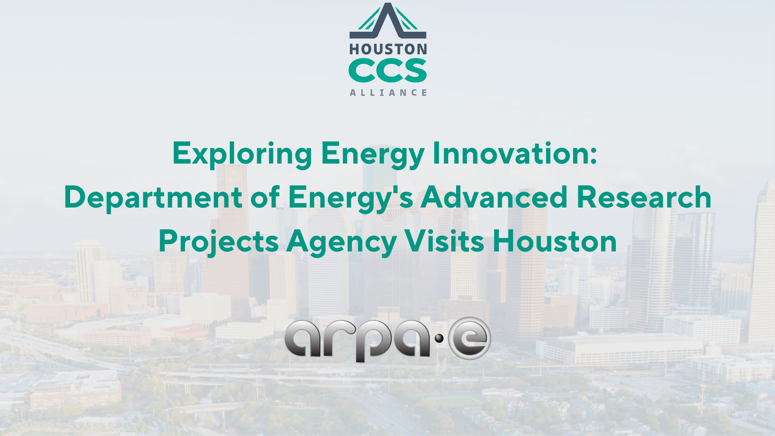 Houston CCS Alliance member companies Calpine and LyondellBasell welcomed the Department of Energy's Advanced Research Project Agency – Energy (ARPA-E) team to Houston on June 5, 2023 and provided them with a tour of some of the industrial facilities in our region that are leading the charge in helping us achieve a lower-emission future.
"We were thrilled to witness firsthand the remarkable facilities and advancements in energy technology taking place in Houston," said ARPA-E Director Evelyn Wang.
Who is ARPA-E and why are visits like this important?
ARPA-E is a federal agency working directly under the U.S. Department of Energy to promote and help allocate funds for the research and development of innovative energy technologies across the country. The agency partners with a variety of organizations and companies to advance high-potential, high-impact energy technologies like carbon capture and storage (CCS) to ensure they can be scaled at large.
During their visit to Houston, around 50 members of the ARPA-E team had the opportunity to see some of the large industrial facilities advancing these innovative technologies up close for the first time. "This visit solidified our belief in the power of collaboration and the importance of supporting innovative energy solutions. Houston's commitment to advancing technologies like carbon capture and storage is truly inspiring, and we look forward to continuing our partnership to drive scalable and impactful change for a sustainable future," said Director Wang.
While touring Calpine's and LyondellBassell's local facilities, company experts shared how their respective employers are working to advance innovative energy technologies like CCS. Later, ARPA-E employees sat down with several academic and industry experts to learn more about the work taking place in Houston to reduce CO2 emissions.
"We enjoyed demonstrating how Calpine is actively working to advance carbon capture and storage technologies as a way to ensure we are able to provide low-carbon power to the Texas grid," said Calpine Vice President of External Affairs Brett Kerr. "Visits like this provide our organization with a valuable opportunity to exchange insights and knowledge with government bodies, furthering our collective mission of creating a sustainable energy future."
"We were excited to showcase to the ARPA-E team how LyondellBasell creates solutions for everyday sustainable living and, through advanced technology and focused investments, enable a circular and low carbon economy," said LyondellBasell's Channelview Complex Site Manager Tony Wood.
Houston's reputation as the Energy Capital of the World has once again proven its worth by attracting influential organizations like the Department of Energy's ARPA-E to explore and engage in meaningful discussions about energy innovation. This visit served as a testament to Houston's commitment to sustainable energy solutions and its role in shaping a lower-emission future.