International Women's Day: The Curiosity & Fearlessness of Women in The Energy Industry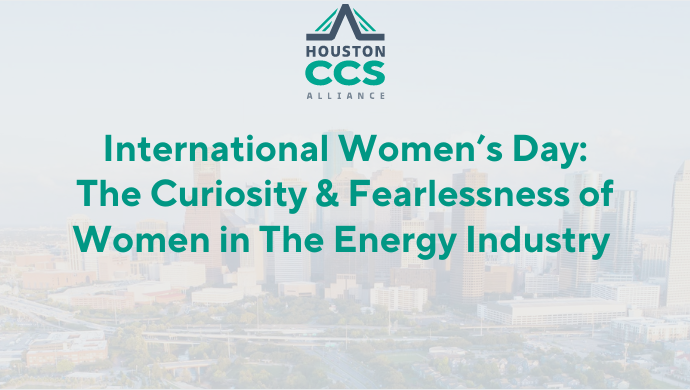 International Women's Day: The Curiosity & Fearlessness of Women in The Energy Industry
International Women's Day (IWD) is a day intended to celebrate the achievements of women across the globe. The Houston CCS Alliance would like to recognize women leaders from two of our member companies who are playing a critical role in the ongoing energy transition.
Lianne Armpriester, General Manager CCUS Solutions at Chevron, and Sarah Rilling-Hall, Direct Air Capture Business Manager at Shell, are playing a crucial part in helping to advance carbon capture and storage (CCS) technologies in Houston and beyond while also expanding pathways for future generations of women to be leaders in the fields of science, technology, engineering, and mathematics (STEM).
Both Lianne and Sarah's journeys to where they are today have been unique. For Lianne, she recognized at an early age that math and science were her strong suit.
"Education was a top priority in our house," Lianne said. "My grandfather only had a high school diploma but worked tirelessly to create a better life for his kids and invest in their education."
Sarah fell in love with geology on a trip to one of our nation's most famous national parks, Yellowstone. This fateful trip would start her journey toward a rewarding career path in the energy industry.
"Believe it or not, I actually started my college career as an accounting major," Sarah noted. "It was during my visit to Yellowstone National Park that I was able to appreciate the beauty of my surroundings which unlocked my passion for geology and eventually energy."
Lianne's and Sarah's passions for education and geology would lead them both to graduate from some of our nation's most prestigious universities. Lianne graduated from the University of Texas at Austin with a Bachelor of Science in Chemical Engineering, while Sarah would earn her Bachelor of Science in Geology from Ohio State University before taking a short drive north to earn her Doctorate in Geological Sciences from the University of Michigan.
Fast forward to present day, where both women are at the forefront of their respective companies' efforts to advance the deployment of CCS.
"One of the most rewarding parts about developing CCS projects with the team at Shell is being able to work with a diverse group of colleagues that includes technical, engineering, regulatory, and policy experts," Sarah explained.
"When working to create a lower-emission future, it's important to approach this challenge creatively, in a way that brings in diverse backgrounds and perspectives to the table."
For Lianne, no two days are alike. "Every day, I am working alongside 40,000 of the brightest minds in the industry creating, problem-solving, and collaborating, all with the goal to drive Chevron and our world closer to a lower-emission future."
The work that Lianne and Sarah are performing at Chevron and Shell is gaining momentum across the energy, petrochemical and power generation industries here in Houston through the Houston CCS Alliance.
"What is great about the Houston CCS Alliance initiative is that we are bringing leaders from 12 of our region's leading energy, petrochemical, and power generation companies to the table to collaborate on how we can make sure that Houston turns into the carbon capture capital of the World," noted Lianne.
"When I'm at these meetings and I look around the table I can't help but smile when I look to my left and right and see several strong and intelligent women leading and participating in these conversations."
For Lianne, after many experiences of being the only woman in a room full of men, seeing more women have a leading seat at the table is not only inspiring but is what International Women's Day is about.
To Sarah, International Women's Day is "a day to celebrate those who paved the way before us." Women like her mother, who reminded her that as a woman, you can create change and impact friends, family, and community.
Lianne's advice to the next generation is simple: "Be your authentic self and listen more," advice that she received upon graduating from college.
Sarah was clear in her advice to aspiring young women in STEM, emphasizing that gender has nothing to do with whether a young woman should or can pursue their love of STEM. To pursue a career in STEM, Sarah says you must answer one question: "Are you curious?"