Jefferson County Leaders Host CCS Alliance for Discussion about Carbon Capture and Storage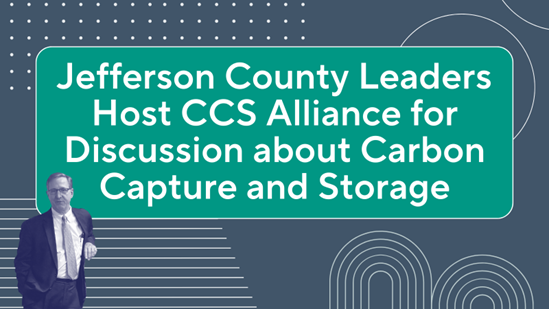 The Houston CCS Alliance recently visited Jefferson County to engage with community leaders and residents about the importance of carbon capture and storage to our region's economic future. The event brought member company representatives from Chevron and ExxonMobil with local elected leaders, business leaders and other community members for a lively, informative roundtable discussion highlighting carbon capture and storage initiatives in the Golden Triangle region. The event was hosted by Jefferson County Judge Jeff Branick, who has led Jefferson County since 2011.
"For decades, Jefferson County and the residents that call it home have played a critical role in helping to make our nation a global leader in energy, an industry that has played a crucial part in powering the economy of our region." said Judge Branick. "As we look ahead, the potential offered by the advancement of carbon capture and storage technologies offers us the ability to continue this economic legacy for decades to come."
Houston CCS Alliance representative Scott Castleman provided an overview of the CCS process, highlighting its importance to achieving regional economic and environmental goals, and discussed the role of the Houston CCS Alliance in engaging communities across southeast Texas about carbon capture. Following this introduction, community members also learned about two major investments already planned for Jefferson County, including Chevron's Bayou Bend CCS development, and ExxonMobil's partnership with Linde, another Alliance member company. ExxonMobil representative Brandon Maxwell outlined the company's Jefferson County project, which will transport and store more than 2.2 million metric tons of carbon dioxide, equal to the emissions of half-a-million cars, from Linde's upcoming hydrogen plant, producing clean, reliable zero emissions energy.
Chevron representative Lianne Armpriester emphasized the importance of engaging with community members to advance Bayou Bend and other CCS projects like it. "Communities in southeast Texas have a vital stake in the advancement of carbon capture and storage projects across our region. Throughout the development of Bayou Bend, we will welcome input and engagement from landowners, community members and other stakeholders. We continue to value community voices in shaping how technologies like CCS are implemented."
Through these roundtable discussions, the Houston CCS Alliance is facilitating dialogue and cultivating meaningful connection between community members and our member companies, giving residents and local officials the opportunity to ask questions about CCS technology and its impacts. Not only that, these forums allow for residents to build personal relationships with representatives from Alliance member companies, paving the way for open dialogue between local communities and corporations.
We would like to thank Judge Branick, county leaders, and the residents of Jefferson County who welcomed us to Beaumont.
Find out More
To watch 12NewsNow's coverage of the Jefferson County roundtable on carbon capture and storage, click here.