Posted On: September 12, 2022
Houston CCS Alliance, A True Community Effort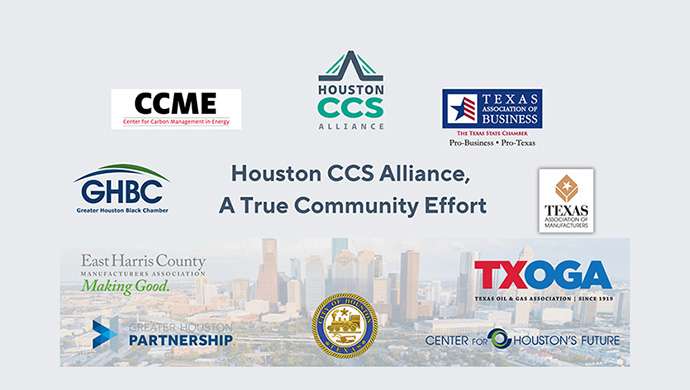 Houston is not only the energy capital of the world, it's also home to some of the most innovative and brilliant minds across multiple industries. For the Houston CCS Alliance, a major focus is bringing together many of our region's best and brightest to work collaboratively with elected leaders, local businesses, educational institutions, and communities to make Houston a leader in creating a lower-carbon energy future.
These relationships are vital to deploying carbon capture and storage (CCS) at scale and educating our communities on how it can help lower carbon emissions throughout Houston and the surrounding region. Organizations like the Greater Houston Partnership, the Economic Alliance Houston Port Region, and Houston Wilderness are known for always putting their best foot forward for their communities. That is why their support for advancing large-scale CCS in the Houston region is so important.
Advancing the goals of the Houston CCS Alliance will play an important role in significantly reducing CO2 emissions from some of the most difficult-to-decarbonize industries, such as power generation, heavy manufacturing, and petrochemical production. It's efforts like the Alliance that will help put the city of Houston on a pathway to achieving its goal of carbon neutrality by 2050. But don't take our word for it.
"As a native Houstonian, I've had a front-row seat in watching my hometown transform into a world-class city with one of the most vibrant economies and cultures found anywhere in the world," said Texas State Senator Carol Alvarado. "Now our city is presented with a new opportunity to be a global leader in reimagining energy. By advancing initiatives like Houston CCS Alliance, I believe we can make Houston the world leader in the transition to a lower-carbon energy future."
Collectively, the Houston CCS Alliance members have the potential to capture approximately 100 million metric tons of CO2 per year by 2040, which is equivalent to the annual carbon emissions of two New York Cities.
"Houston has a responsibility and an opportunity to leverage our energy leadership to accelerate global solutions for an energy-abundant, low-carbon future," said Jane Stricker, Executive Director, Houston Energy Transition Initiative and SVP, Energy Transition, Greater Houston Partnership. "We see Initiatives like Houston CCS Alliance as crucial opportunities that will help our city achieve this goal."
Make no mistake, advancing CCS will require an all-hands-on-deck effort and can't be done alone. For Houston CCS Alliance to be successful, we must be focused on bringing together industry and communities alike to understand the shared benefits that can come from advancing CCS in our region. At times these conversations may be tough, but by working together collaboratively, we have a real opportunity to make a difference in our city's journey to reimagine the energy capital of the world.
The growing local and statewide support for our efforts are truly exciting. Interested in seeing what many are saying about us? Click here.